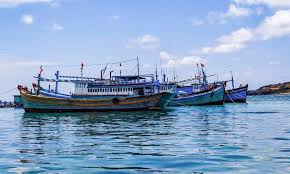 On April 30, 2020, the Department of Agriculture and Rural Affairs of China's Hainan Province announced what is called "annual fishing moratorium in the South China Sea" with effect from May 1 to August 16, 2020 in the waters north of 12 degrees north latitude of the South China Sea. During that three-and-a-half-month period, China will perform a safety check on fishing equipment and boats, and at the same time, providing training on regulations and relevant skills for fishermen.
With the so-called purpose of "protecting maritime ecology and diversity from overfishing", China has blatantly and unilaterally imposed the annual fishing ban for the past 21 years since 1999 in disregard of international law. International law experts and researchers say that China's action is illegal from an international law perspective.
To begin with, Chinese fishing ban covers part of the Gulf of Tonkin, the waters beyond the mouth of the Gulf of Tonkin and the Paracel Islands, which are under Vietnam's sovereignty, as well as Vietnam's exclusive economic zone (EEZ) and continental shelf (CS) from latitude 12 degrees north up.