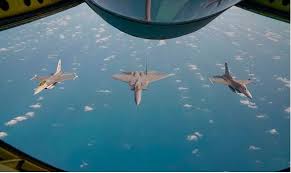 CHINA has been accused of creating an early warning system to protect its illegal island fortress on the disputed Spratly Islands in the South China Sea.
Satellite images showing surveillance balloons above the man-made Mischief Reef have been seen as further evidence of China's militarisation of the strategic stretch of water which also is claimed by Brunei, Malaysia, the Philippines, Taiwan and Vietnam.
Defence analysts said the balloons were capable of carrying array radars, infra-red and optical sensors and electronic jamming and surveillance devices which could form an airborne warning and control system.
They said the balloons effectively completed an overlapping network of radars and satellites reaching far into the South China Sea to detect low-flying aircraft and small vessels and enabling Beijing to put the whole region in lockdown.
Mischief Reef is believed to boast bomb-proof aircraft hangars, underground fuel storage facilities and ammunition bunkers.
Click this link for the original article
---
Newer news items:
Older news items:
---