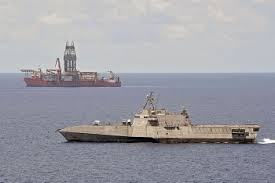 Sovereignty and territorial disputes have existed between many countries and in many parts of the world. Diplomatic and legal measures have always been considered appropriate for their peaceful settlement. However, in the case of the South China Sea, such processes have faced with numerous obstacles, mainly due to China's position.
The best solution that should always be given priority is direct negotiation between the disputants. It is by this way that Vietnam and China have solved satisfactorily the problem of land border delimitation and issues concerning the Bac Bo (Tonkin) Gulf.
But negotiations related to the South China Sea have been much more difficult.
While there is real need to address the issue of Hoang Sa (Paracel) Archipelago, which belonged to Vietnam and seized by China using armed force in 1956 and 1974, China has been always rejecting any mention of this matter, asserting that "there is no dispute exists". In practical term, the failure to clarify the Hoang Sa issue obstructs a possibility to clearly delimitate the sea areas off the mouth of the Bac Bo (Tonkin) Gulf and leads also to many other serious consequences. For instance, with its claim that Hoang Sa belongs to China and has a 200-nautical-mile exclusive economic zone, China hasattacked Vietnamese fishing vessels, preventing Vietnam from lawful activities right in its exclusive economic zone, and sent survey ships and drilling rigs for exploration in waters under Vietnam's sovereign rights and jurisdiction.
While refusing any discussion on such a practical issue, China has been constantly pressurizing other countries into negotiations for "joint exploitation" with China, and China alone, in their exclusive economic zones and continental shelves, which China considers as under "disputes" with areas covered by its "nine-dash line" or " Four Sha". For example: China has been constantly trying to obstruct Vietnamese surveys at Tu Chinh (Vanguard) Bank in Vietnam's continental shelf on the grounds that it lay within a 200-nautical-mile range from rocks described by China as belonging to the Truong Sa (Spratly) Archipelago (despite a PCA ruling that all features in Truong Sa do not generate an exclusive economic zone, and despite China's recognition that there remained "disputes" in Truong Sa, i.e. Truong Sa did not fully belong to China). A similar state of things has occurred between China on the one hand and the Philippnes, Malaysia, Indonesia and Brunei on the other. Please note that the real meaning of Chinese "joint exploitation" concept requires that China would participate not simply as a foreign partner-investor like any other country, but as the one having "sovereignty" over the sea area concerned. To accept such negotiations would mean acquiescence of this China's absurd claims. That was the main reason for Indonesia's rejection of China's proposal for negotiations on water areasnear Indonesia's Natuna islands in this July.
Following the US announcement of its "pivot" to Asia, and at the urging of ASEAN countries, China finally agreed to hold negotiations with ASEAN on a Code of Conduct in the South China Sea (COC),and has been using this to show that the South China Sea situation is "developing positively", "under control", and being resolved between China and ASEAN, with no need for outside involvement. In reality, however, the COC negotiations have been facing with numerous difficulties, for China is unwilling to have a truely effective and legally binding code of conduct (which is essential, but still lacking, for ASEAN countries to help create favorable conditions for maintaining peace and stability in the South China Sea). Meanwhile, China keeps pressurizing ASEAN countries into accepting a stipulation that all cooperative activities for exploitation in the South China Sea should be conducted only with China or China's consent, which would means at the same time an official recognition of China's sovereignty over most of the South China Sea and an agreement with China to "close the door" of these international waters to all other countries.
In fact, China has turned the existing and real issue of Hoang Sa (Paracel) into an "undisputed" oneand large parts of legal exclusive economic zones and continental shelfs of other littoral countries into "disputed" areas, and at the same time has been trying to compel other countries to negotiate on the basis of recognition in the first place of China's "nine-dash line" and "Four Sha" claims. That is whymany "bilateral negotiations" have been deadlocked or unable to come into real substance, and there is no sight that China might adjust its claims to conform to international law. Meanwhile, China is getting ever more drastic in unilateral use of force for on-site realization of its illegal claims.
Legal solutions constitute a widely used and effective tool for the peaceful settlement of territorial sovereignty disputes between countries, including those with friendly relations, and therefore should not always be seen as an act of confrontation or hostility. For example, Malaysia and Singapore, Australia and Timor Leste, Cambodia and Thailand, Qatar and Bahrain, India and Bangladesh, orNicaragua and Colombia ... have found fruitful and mutually acceptable solutions to sovereignty disputes through international jurisdiction. As shown by history, if parties to a dispute cannot come to a solution through direct negotiations, due to impossibility to compromise on matters of principle or internal factors, recourse to international jurisdiction, such as a court or an arbitral tribunal, serves as a necessary, effective and appropriate solution. However, China has always been fiercely opposed to such a way of solution with regard to the South China Sea issue, despite its repeated assertion that China "has ample historical and legal grounds" for its "indisputable" sovereignty. China has rejected the Philippines' proposal for a joint settlement through an arbitral tribunal, and exercised non-participation in the lawsuit, non-recognition of the ruling by the Court of Arbitration, and non-implementation of its decisions, although, as stipulated by international law, decisions rendered by such a court "shall be final and shall be complied by all the parties". At the same time, China then has conducted economic sanctions and political campaigns against the Philippines, pressurizing the latter into side-stepping the Court's ruling, and mobilizing the international public to stand against it. China has also threatened to take "stronger" measures against other countries should they dare bring China to an international arbitral tribunal. Meanwhile, peaceful settlement of disputes, including through agencies of international jurisdiction recognized in international treaties, UNCLOS or stipulations on the PCA's establishment…, constitutes one of the fundamental principles of international law contributing to the preservation of peace and stability in the world. China's defiance of international law, disregard of the PCA, and boycott of its ruling cannot help raising doubt and concern among many countries about China's real motives at a time when China is busily campaigning for theappointment of an additional judge of its own to the International Tribunal for the Law of the Sea, another agency established in accordance with UNCLOS.
Although ASEAN has always advocated "respect for diplomatic and legal processes" in resolving the South China Sea issue, China's aforementioned stance constitutes a large obstacle blocking the way toward substantive negotiations or the use of legal instruments for the peaceful settlement of disputes in the South China Sea. And thus, what China has claimed as "indisputable" has in fact been turned by China itself into an "do-not-dispute" matter.
So, what can be solutions for the region's future?
As has been shown in world history, unilateral use of force to materialize territorial sovereignty ambitions in disregard of international law poses a serious danger to peace, and only abidance to norms of conduct under effective supervision by collective security mechanisms can prevent conflicts and wars.
The growing tensions in the South China Sea, along with accelaration of armament, militarization, unilateral use of force in defiance of international law, growing radical nationalism, and increasingly fierce confrontation and strategic competition between the US and China will inevitably lead to further instability in the whole region's security and development environment and, in general, will be disanvantageous to all countries, including China. Peace, stability and cooperation for development and prosperity always serve the fundamental and long-term interests of all nations. A proper awareness and responsible coordination of actions from all countries in the region and the international community are required for building trust and eliminating emerging threats and challenges.
First and foremost, the South China Sea should be understood as a traditional living space and an essential security and development environment for all coastal countries on the one hand, and aninternational body of water and a maritime and air route of primary importance of the world, on the other. Therefore, no country shall be allowed to exercise unilateral domination or control of the South China Sea, and maintenance of peace, stability, and safety and freedom of navigation in the South China Sea in line with international law shall be a common primary responsibility of all countries in the region and the international community. With a view to clarifying and fortifying such an awareness, researchers of different countries have of late suggested the use of "Southeast Asia Sea" as the official international name of this body of water, in order to better reflect its geographical position and its "common" character, instead of "South China Sea", which is linked to just one of the coastal countries.
Second, it should be made clear that in relation to the Souht China Sea, there are 3 main issues have emerged that need to be addressed: first, disputes over sovereignty, sovereign rights and jurisdiction among coastal states, of which the biggest and most acute are between China and the others; second, strategic confrontation and competition between the US and China in the region; and third, maintenance and ensurance of peace, stability, safety and freedom of navigation and overflight, andecological environment protection in the South China Sea. The three issues are closely inter-connectedand inter-act with each other.
Third, a satisfactory solution to the South China Sea issue could only be found on the principle of respect for the law, abidance by the fundamental principles of the United Nations Charter and other instruments of international law, especially strict and full compliance with stipulations of the UNCLOS as a Charter of Mankind on Oceans today. Any unilateral action in defiance of international law shall only increase tension and risks of conflict in the region.
Therefore, claims by all parties relating to sovereignty over sea features as well as to water bodiesshould be consistent with international law, especially UNCLOS. Priority should be given to the settlement of differences or disputes through direct negotiations between the parties concerned. In case no consensus is possible, the parties may resort to other peaceful means, such as mediation, conciliation, or arbitration by international jurisdiction agencies, the rulings of which shouldnecessarily be respected and enforced strictly. In the meantime, no party might act unilaterally to change the status quo and expand control, or to conduct exploration and exploitation beyond their respective exclusive economic zones and continental shelves as defined in accordance with UNCLOS stipulations.
At the same time, coordinated efforts are urgently needed to focus on stopping the arms race in the South China Sea, or even demilitarizing the South China Sea through gradually reducing and minimizing the presence of offensive weapons and military operations at sea of all parties.
Finally, it is of great importance that studies be conducted and consideration given at an earliest possible time to promoting the formulation of regional collective security arrangements and mechanisms with the participation on an equal footing of all stakeholders in order to develop and monitor the implementation of regulations and norms on the settlement of disputes, clashes and other problems that may arise, on armament and military operations, on management, control and exploitation of resources, on the protection of the marine ecological environment, with a view to preventing conflicts, maintaining peace and stability, ensuring safety and freedom of navigation in and overflight above the South China Sea, and enabling development cooperation for the shared prosperity of the region and the world. For the exercise of the above-mentioned function, ASEAN-centeredregional security structures, such as the ARF, the ADMM+, and especially the EAS, could and should be upgraded into regional collective security mechanisms. Consideration should be given to the convening of an International Conference on the South China Sea and then an International Conference on Security and Cooperation in East Asia for discussions of and decisions on relevant issues. Meanwhile, to perform its responsibility and centrality, ASEAN should consider the possibility of establishing a special task force on the South China Sea, with the voluntary participation of member states sharing direct interests in and highest concern about this issue, for regular research, monitoring and evaluation of the situation, and timely submiting reports and recommendations to ASEAN.
Such is the best way to build trust, ensure sustainable peace and promote development cooperation in the South China Sea in the interests of all countries in the region and the world./.
---
Newer news items:
Older news items:
---