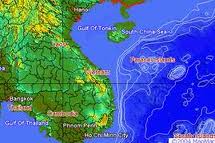 SCSC - Let us first learn about the royal records. Under King Gia Long 1802 - 1819, the state apparatus was reformed to an absolute hierarchical monarchy.
The central government headed by the King presided over the major decisions of the country. The six Boards serving the King included Board of Appointments (Bộ Lại), Board of Finance (Bộ Hộ), Board of Education (Bộ Lễ), Board of
Defence
(Bộ Binh),
Board of Justice (Bộ Hình), and Board of Public Work (Bộ Công). Each Board was headed by a Chief Secretary (thượng thư

) who was assisted by lower ranking officials

(tả hữu tham tri

and

tả hữu thị lang). Each Board was divided by scope of work into specialized departments.
Assisting the six Boards were four services including Thái thường tự (ceremonies and musical performances), Hồng lô tự (announcement, funeral and reception), Thái bộ tự (equestrian services), Quang lộc tự (feasts and offerings). Each service was headed by a service chief (tự khanh) and a service assistant (thiếu khanh), and some secretaries (nhân viên thư lại). In addition, there were Thị thư viện and Hàn lâm viện. In the Gia Long governance structure, there were specialist services including Nội tào, Ty thông chính, Quốc tử giám, Thái y viện, Tào chính, Hành nhân, Vũ khố, Khâm thiên giám, Tư tế ty, Tượng y viện.
Thị thư viện was tasked with assisting the King in drafting official orders and messages to the mandarins. Hàn lâm viện was in charge of composing materials and books for education purposes and drafting announcements and orders. Quốc tử giám was the highest education authority of the country which was responsible for organizing training and examinations. Some records suggested that it also served the preservation of the King's absolute power.
Under the Nguyen Dynasty, royal records were a form of Chinese - Vietnamese materials. Such administrative documents were composed by administrative authorities from the central to local levels for the King's eyes or approval. The King's approval was marked with red stamps on documents about politics, military, diplomacy, economics, cultural and social issues among others. Royal records were administrative letters and documents of the Nguyen dynasty classified into different categories. Documents issued by the King includes royal proclamations, decrees, diplomas, and ordinances. Proposals by the Board officials to the King on the various political, economic and cultural issues of the country were called reports (tấu, biểu, bẩm). Documents drafted by the Boards, services and localities under the King's order were petitions (tư, sớ). Besides, there were various other forms of diplomatic notes and other documents. Such were administrative documents approved by the Nguyen Kings. Royal records of the Nguyen Dynasty have enormous historical values on Viet Nam's territorial sovereignty, borders and territorial seas and islands. Their historical values also lie in the fact that they confirm the establishment and exercise of sovereignty of the Nguyen Dynasty over the Hoang Sa and Truong Sa. Among the royal records of the Nguyen Dynasty, 19 were found to mention events related to the Hoang Sa and Truong Sa. Records held at the National Archives Centre I, Ha Noi have to some extent given an overview of activities taken by the Hue Royal Court to exercise sovereignty over the Hoang Sa and Truong Sa. Most importantly, the King's autographs were found on all of the records related to the Hoang Sa and Truong Sa. Such were vivid and clear testimonies to the attention accorded to these two archipelagoes by the highest authorities in the Viet Nam feudal regimes.
The royal record originated from the feudal cabinet dated July 13th of 1835, the 16th year under King Minh Menh's reign was a good example.
The Cabinet read as follows:
The Board of Finance (Bộ Hộ) submitted a report on summer crop damage and proposed partial tax exemption for Hai Duong and Thai Nguyen. At your order, we have reviewed the petition and found it legitimate. Please grant your approval.
Regarding the inspection books from Gia Dinh, Quang Nam, please allow the three legal divisions to jointly review for a more thorough report.
Earlier, court servant Nguyen An reported to the Cabinet that soldiers who were sent to Hoang Sa returned later than ordered. Team leader Pham Van Nguyen and the soldiers must be honest about whether they had made misconduct. Misconduct, if any, must be handed over to the Board of Justice for deliberation and punishment. If no offences have been made, Pham Van Nguyen shall be immediately spared of the 80 lashes and shall resume his title. Despite drawing unclear map, the team supervisor (Viên Giám thành) shall be waived of the 80 lashes. Each path - leader shall be rewarded with "ba mai" coins; each soldier shall be rewarded with 600 coins. Laborers, if not exempted from tax, shall be rewarded with 600 coins each.
Next, rewards and punishments for the marine foremen sent to the Hoang Sa were also recorded clearly:
Foreman Pham Van Nguyen sent to the Hoang Sa was subject to punishment by the Board due to delayed return. Nevertheless, after interrogation, no corruption has been detected. In contrast, his mission has been well fulfilled, thus earning him deserving reward. Upon return, Pham Van Nguyen, however, has been removed from current position and arrested due to arrogance. The punishment of 80 lashes put on him shall now be waived, and his title shall be resumed. Officials responsible for drawing maps including Tran Van Van, Nguyen Van Tien and Nguyen Van Hoang, who were previously sentenced to 80 lashes due to unclear map - drawing shall now be exempted. Path - leader Vu Van Hung and Pham Van Senh shall be rewarded with small "phi long, ba mai" coins. Soldiers on this mission shall be rewarded with 600 coins and have their positions resumed. Laborers sent on the mission by the provincial authority, excluding the rewarded two, shall be rewarded with 600 coins each.
In further deliberation, laborers on the mission of this year and last year who have not been waived body tax, shall now be rewarded with 600 coins.
For your Majesty's consideration.
Drafted by Nguyen Duc Hoat.
Read by Ha Tong Quyen.
Reviewed and signed by Nguyen Van Ky.
Checked and signed by Ha Duy Phien.
The royal records' content demonstrated clear and fair rewards and punishment by the Nguyen Dynasty for those sent to exercise sovereignty and exploit natural resources on the Hoang Sa and Truong Sa. Service was rewarded, while unfulfilled duties were punished. The policy as such indicated high level of administrative management exercised by the Nguyen dynasty over the Hoang Sa and Truong Sa.
---
Newer news items:
Older news items:
---