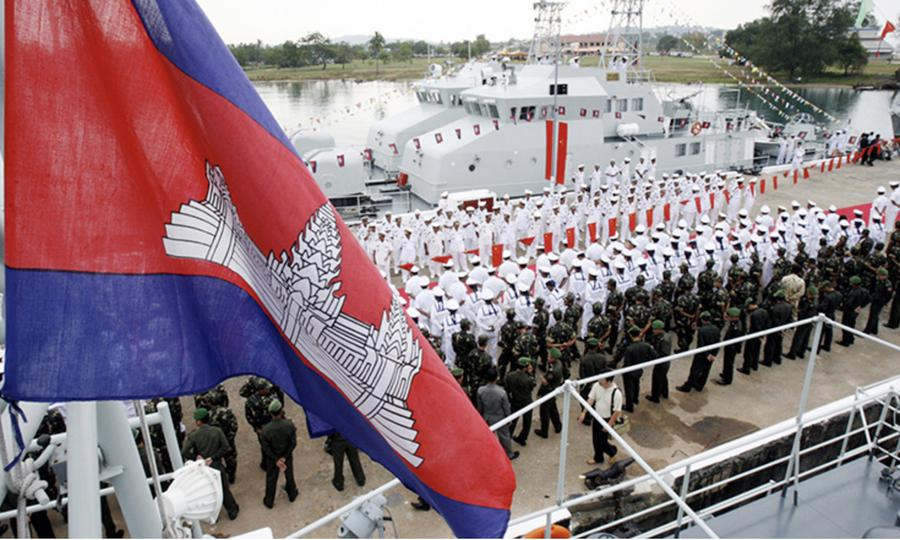 On July 21, 2019, the US Wall Street Journal reported that Cambodia had signed a tacit consent with China to allow Beijing to use a naval base on Cambodian territory.
The reports that China's construction of a military base started catching headlines in the second half of 2018. At that time, US Vice President Mike Pence sent a letter to Prime Minister Hun Sen, expressing concern that Phnom Penh is planning to continue receiving Chinese weapons in Ream Naval Base near Dara Sakor. In a response letter, Prime Minister Hun Sen has affirmed that Cambodia reject all foreign military presence, as well as "any rivalry that could push Cambodia into a proxy war once more time".
To reassure Vietnam, which will be most vulnerable to a Chinese military base in Cambodia, during a visit to Vietnam in December 2018, at a joint press conference with Vietnam's Prime Minister, Mr. Hun Sen has actively emphasized that the news that China has built a military base in Cambodia is just "fake news", adding that their Constitution "does not allow any country to set up military bases".
In 2008, when a land lease was awarded to a Chinese company, Dara Sakor was advertised to become a new tourist center of Cambodia. However, scale of Dara Sakor (a large infrastructure compared to the potential of this land, especially international airports and deep-water ports, etc.) makes the US worry that this resort is part of the plan to set up Beijing's naval base in Cambodia.
After ten years, since its inception, Dara Sakor has become a super project with a huge investment of $3.8 billion from China in Koh Kong Province in Cambodia –it is different from any project in the Southeast Asia. The 45,000-hectare site is controlled by Chinese Tianjin Union Development Group, a consortium supported by many Chinese Communist Party leaders under a 99-year lease. According to satellite photographs, a large airport with a 3.2 km long runway that can be used for military aircraft has been built in Dara Sakor. Not far away, at Ream military port, China is investing to build two deep-water ports capable of receiving large Chinese naval ships.
In fact, with the cover of the "belt and road" initiative, Beijing has transformed 2 Hambantota Ports in Sri Lankan and Gwadar Port in Pakistan into Chinese naval bases in the form of 99-year lease. Airport and seaport facilities in Cambodia also shares the same fate as those in Sri Lanka and Pakistan, serving as Chinese military bases.
The naval presence there will expand China's strategic foothold in Southeast Asia, helping Beijing control the South China Sea and maritime routes through which goods worth trillions of dollars can be transported. With a base in Cambodia, Chinese Navy will have a favorable operating environment in the waters in Southeast Asia. Along with Chinese military outposts built on man-made islands in the South China Sea, China's military base in Cambodia will create a strategic area directly behind the Chinese military's perimeter. This will be the biggest implication for the region, along with its political impacts.
On September 22, 2019, Mr. Hun Sen continued to reject the Wall Street Journal's report on a the tacit deal between China and Cambodia, asserting that "such a thing cannot happen since the building of foreign bases is contrary to Cambodia's Constitution". Meanwhile, Beijing does not deny nor confirm the reports released by the Wall Street Journal, Chinese Foreign Ministry spokesman Jing Sang said in general that "Cambodia has denied this." In any case, the fact that China is building a large airport and a deep-water port in Sihanoukvill has been proved by satellite images. As Hun Sen's double-standard nature, his statements cannot deny the information that the Wall Street Journal has published.
According to the Wall Street Journal, the above-mentioned deal, which was signed this Spring, allows China to use a Cambodian naval base on the Gulf of Thailand. The agreement was not made public by either party. According to the draft agreement obtained by US officials, the agreement will allow China to use the naval base within the 30-year period and will be renewed every ten years. China will be allowed to deploy personnel, to stock weapons and to anchor ships at this naval base. The draft agreement also stated that Chinese personnel can be armed and provided with Cambodian passports, and the Cambodian side needs permission from the Chinese side for entry to the 62-hectare area run by China at Ream. This means that this area has ceded to China during the Agreement's valid period.
If this happens, this will be an unacceptable concession for any country. Can you imagine that Americans can use Japanese passports on Okinawa Island? Far from that, sovereignty will be of no value if Cambodian passports are distributed indiscriminately to Chinese military personnel. Cambodia will be a new type colony of China.
Analysts hold the view that military operations deployed at the naval base or the nearby airport in Dara Sakor will help Beijing strengthen its ability to enforce its sovereignty claims and economic benefits in the South China Sea, threaten US allies in the Southeast Asia and expand its influence on strategic Malacca Strait.
Observers also hold that the tacit deal between Beijing and Phnom Penh will bring about very serious consequences. The fact that Cambodia has agreed to allow China to maintain its weapons in Cambodian represents a major move that will shift the military picture in the region. This will be China's first military base in Southeast Asia which poses biggest threat to regional peace and stability.
Beside Vietnam, all countries inside and outside the region have seen that China 's military reach out deep into Cambodian territory will create conditions for China to control the entire South China Sea and to control the vital maritime route.
It is time for international community to join hands to stop Beijing's threat, to lay bare the deceitful faces of both Beijing and Phnom Penh so that an order can be ensured in the South China Sea and the region in the interest of peace and friendship among nations.
---
Newer news items:
Older news items:
---