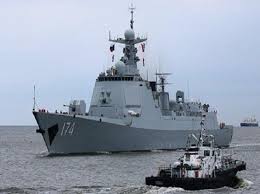 Since China's deployment Haiyang 08 ship and many escorts to conduct illegal surveys in the exclusive economic zone and continental shelf of Vietnam as well as intimidate and hinder the oil and gas cooperation activities of Vietnam for a long time, there have been many suggestions that Vietnam should sue China like the Philippines did in 2013. This article would like to mention another aspect related to the legal struggle: the strong reaction of international community criticizing Chinese behavior will create a great advantage for Vietnam when using legal measures to protect its legal rights and interests in South China Sea.
After the United States' strong and explicit criticism of China's aggression and bullying in the Vietnam's exclusive economic zone and continental shelf at various levels, from the Statement of State Department to the Statement of the Defense Department to the Senators of both the Senate and the House of Representatives and to the National Security Advisor, a new wave of international criticism of Chinese coercion and intimidation in South China Sea has emerged.
Prime Ministers of Australia and Malaysia during recent visits to Vietnam have raised their support of Vietnam and criticized unilateral actions in violation of international law in the South China Sea. Foreign Minister of Japan and Foreign Ministry Spokesman of India also delivered speech criticizing coercive actions in the South China Sea and calling for the compliance with international law.
In addition to August 5thstatementof Ms. Federica Mogherini, Vice President of the European Commission, senior representative of the European Union in charge of security and foreign affairs, during her visit to Vietnam, the August 28th2019 Statement by the Spokesman of the European External Action Service once again expressed concern over China's behavior, emphasizing that "Unilateral actions during the past weeks in the South China Sea have resulted in mounting tensions and a deterioration of the maritime security environment", "represents a serious threat to the peaceful economic development of the region".
In particular, on August 29th2019, France, Germany and the United Kingdom issued Joint Statement expressing their concern about the situation in South China Sea. This was the first time three major European countries had issued a joint statement on the South China Sea. In their statements or speeches, they highlighted the spirit of upholding the rule of law, emphasized the state obligations to United Nations Convention on the Law of the Sea 1982 (UNCLOS),and the respect for the rights and interests of the coastal states in accordance with UNCLOS.
As such, 3/5 permanent members of the United Nations Security Council have publicly criticized China's coercive behavior. Another UN Security Council permanent member, Russia, while giving no statement about Chinese aggression, backed up Rosneft Company to maintain oil and gas cooperation with Vietnam in Lot06-1 in Vietnam's continental shelf, which shows a strong support for the cause of Vietnam and demonstrates the Russian view follows UNCLOS regulations.
It is unclear, as a permanent member of UN Security Council, what Beijing thinks when continuously taking action regardless of anything. Perhaps, in order to realize the "Chinese Dream", Xi Jinping is taking China along the path of hegemony to dominate the region? He may be willing to do anything, even standing alone against all of four permanent members of the UN Security Council.
The criticism of international community, especially from permanent members of UN Security Council, against China's violation of international law as well as their demanding of China to respect international law are beneficial for Vietnam when suing China as the judges will have to take international opinion into consideration during the process of trial and making decision. Particularly, Joint Statement of the UK, France and German mentioned the South China Sea Arbitral Award of July 12th 2016 initiated by Philippines as a legal basis for South China Sea dispute settlement. This is even more beneficial for Vietnam when suing China because the Award of July 12th 2016 has already became a legally-recognized case respected by international community.
Clearly, over the sea area infringed by China HD08 ship group, Vietnam has defined sovereignty right and jurisdiction in accordance with the provisions of the United Nations Convention on the Law of the Sea 1982 and recognized by the international community, including the permanent members of UN Security Council Standing Members (except China – the trespassing country here). Therefore, it is certain that Vietnam will win if it sues.
On the other hand, since the beginning of July, most of scholars and researchers' articles and speeches have sided with Vietnam, criticizing the Chinese aggression. This is also a very favorable factor for Vietnam should it sues China.
In short, since China blatantly conducted illegal activities in Vietnam's exclusive economic zone and continental shelf, a new wave of criticism by many countries against China's behavior have emerged so far. This will create favorable conditions for Vietnam to sue China for violating Vietnam's sovereignty right and jurisdiction as well as threatening Vietnam's long-standing legal oil and gas cooperation activities. In this context, if China does not stop its aggressive behavior, Vietnam should take legal actions.
---
Newer news items:
Older news items:
---