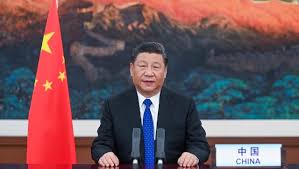 The Chinese Embassy in Hanoi has recently uploaded on its website an article named "Sincere words for Vietnamese people" written by Hu Xijin, the Editor-in-Chief of Global Times – an official newspaper of Chinese government. Mr Hu Xijin shared Beijing's view on the 25-year bilateral relations between the US and Vietnam. Accordingly, China was believed to be Vietnam's only "good friend", and there are five reasons for which Vietnam should not bolster relations with the US.
As an overseas Vietnamese, I am truly discontent with Mr Hu Xijin's spiteful opinion, and what's more he patted himself on the back for representing the viewpoint of the majority of 1.4 billion Chinese people. On this occasion, I would like to respond to Mr Hu Xijin and the Chinese authority in Beijing as follows:
First, the 25th anniversary of Vietnam-US relations is a bilateral celebration between the two states, marking a new milestone in the reconciliation process with the motto "shelf the past and move towards the future". Many countries sent their sincere and hearty congratulations to both Vietnam and the US. Why are Mr Hu Xijin and the Chinese leadership in Beijing the only ones who slander these bilateral relations and "throw a spanner in the works"? Are they irritated or "he who excuses himself accuses himself", thus "afraid of their own shadow"?
As far as I recall, China or any third country was not mentioned at all in all the statements by the leadership and different levels of both Vietnam and the US.
Both Vietnam and the US went through a grievous history. Nonetheless, the people and leaders of both states realise the importance of letting go of the past to foster cosy relations. The 25-year development of the Vietnam-US bilateral relations has been such a marvel, which required will, effort, and sincerity from both states' leaders and people. The two nations now have become friends.
In the opening of the article, Mr Hu Xijin mentioned "thousand tons of bomb rained down on Northern Vietnam", which unequivocally revealed his provoking and decoupling intention. As a matter of historical fact, hatred for American, if existed, has lasted for only several decades. It is, however, a different case for the Northern neighbour. Vietnam had a bitter history that spanned a thousand years with China and the cry of mothers who lost their sons in recent incidents in Vi Xuyen (Northern border) and Johnson South Reef (Spratly Islands) is still echoing elsewhere.
Comparing the Vietnam-US diplomatic history and that of Sino-Vietnam, Mr Hu Xijin will be aware that the US has established diplomatic relations with Vietnam for merely 25 years while China has done so for 70 years. However, many public surveys reveal that Vietnamese people tend to prefer America to China and put greater confidence in the US than the neighbor. What is the reason? That is because 25 years of Vietnam-US relations are full of good-will and sincerity. Both states agree on prioritising the future without forgetting the past. Meanwhile, 70 years of Sino-Vietnam relations are marked with dastardly ploys, ill-will, acts of betrayal, and invasion wars, numerous examples of which include China's "foul-plays" during the 1954 Geneva Conference and the 1972 Paris Conference; the occupation of Paracel Island in 1974, border war in February 1979, and the bloody massacre in Johnson South Reef in 1988.
In his article, Mr Hu Xijin stated: "In Vietnam, there are people who are influenced by anti-China nationalism". Mr Hu Xijin had better reflect on the behaviour of Chinese leadership in Beijing first. The entire world knows that Vietnam is friendly, sincere, and dedicated. Amid the current Covid-19 pandemic, while Beijing was taking advantage of the crisis to conduct coercive activities in the South China Sea, Vietnam devoted itself to cure foreign patients, who were in critical condition. Is there any country that spoke highly of Beijing amid the Covid-19 Pandemic or complaint, criticisms and condemnation the only things heard?
Vietnamese people, millions as one, have always been sharing the only nationalism of fighting against invaders, no matter whom, to safeguard Vietnam's sovereignty and territory. This tradition has been sustained for a thousand years and will always remain the same. I will analyse the five reasons that Mr Hu Xijin used to decouple Vietnam from the US.
First, according to Mr Hu Xijin, "there is no way that the US sincerely supports Vietnam's development" and the US' goal is to "take advantage of Vietnam". I must say that each Vietnamese knows too well who is "good" and who is "bad"; who wishes to encourage Vietnam's development and who always tries to hinder it. Vietnamese people share the same view that whoever pays no respect to and violates Vietnam's maritime sovereignty and legitimate interests in the South China Sea is definitely not "friend"; and whoever pays respect to Vietnam' sovereignty and holds international law in high regard is "good friend". A wise man like Mr Hu Xijin must know the answer himself.
Second, Mr Hu Xijin wrote: "devoting itself to foster harmonious relations with Vietnam is within the framework of China's longstanding "Good Neighbour Policy". Mr Hu seemed to be a typical representative of Beijing's leaderships who "speak one way and act another". Towards how many countries were China being coercive amid the Covid-19 Pandemic? China conducted aggressive and coercive activities against Vietnam, Philippines, Malaysia, and Indonesia in the South China Sea; against Japan in the East China Sea, and against Taiwan in the Taiwan Strait, not to mention India, Bhutan, and so forth. Can we consider such an approach a longstanding good neighbour policy? In fact, China's actions are good examples of a coercion and intimidation policy. I want Mr Hu Xijin to answer the following question: Is Sino-Vietnam good relations evidenced by China's deployment of coast guard ships and militia ships to hinder Vietnam's oil and gas exploration?
Third, have Mr Hu Xijin used the argument that China and Vietnam share a similar political system (socialism) to once again blind Vietnamese people? Mr Hu must look back on the nature of Chinese administration. A socialist country would never deploy its coast guard ships to ram poor fishermen's fishing boats from another "brother" socialist neighbour. Only pirates carry out such action. Merely by observing the behaviours of Chinese leaderships in Beijing towards their own people, could we realise China's nature and ambitions. Therefore, we must be alert of Beijing's "sweet words", whose representative is Mr Hu Xijin.
Fourth, Mr Hu Xijin threatened Vietnam with oversea hostile forces. Any Vietnamese, at home or abroad, are concerned about Vietnam's maritime sovereignty. As Vietnamese overseas, all we have is indignation over Beijing's coercive and invasive activities that violate Vietnam's sovereignty, sovereign rights, and interests on the sea. Being reluctant to fight against Beijing's invasion is actually Hanoi will cause discontent among its people. Any oversea Vietnamese would wish for the blooming Vietnam-US relations so that the country has a favourable condition in the battle against expansionism and hegemony in the South China Sea.
Fifth, was Mr Hu Xijin's statement: "the capability gap between Vietnam and China is unbridgeable" meant to threaten Vietnam? Even though Vietnam is not as powerful as China, that does not mean Vietnam will surrender when being pressured by China. Once Vietnam's sovereignty and national interests are violated, both domestic and oversea Vietnamese citizen will unite to fight against the invaders. That is the strength of justice.
Throughout his article, Mr Hu Xijin seemed to be afraid that Vietnam would join the US to suppress China. Maybe the Chinese leadership in Beijing have committed wrongdoings that go against morals and international law so they are now "scared of their own shadow". As for Vietnam have always articulated the spirit of friendliness in our foreign policy, which is founded on national interests, and upheld the motto "Use the great justice to win over tyrannies, and compassion to replace violence". Thus, Vietnam will not harm any third party, including China.
Beijing's spitefulness is inevitable because China is encountering the greatest challenges in bilateral relations with the US President Donald Trump administration is targeting China in every aspect, from trade, the cause for Covid-19 to issues concerning Hong Kong, Taiwan, Xinjiang, and Tibet. In the meantime, Vietnam-US relations has been witnessing rapid and comprehensive development during the last 25 years, which is not what Beijing wishes for.
Mr Hu Xijin's viewpoint will not influence Vietnam's will and consistent principles in maintaining relations with other states. To gain respect from Vietnamese people and the international community, Chinese leaders in Beijing must change their behaviour in the South China Sea. Specifically, China should give up its ambition to expand and invade other states' territory, concurrently, stop harassing activities that hinder other neighbour states' oil and gas exploration in the South China Sea. Furthermore, China should also abandon its "nine-dash line" claim, respect international law, and comply with the Tribunal Ruling on the South China Sea issued on July 12th 2016.
Once China fulfils these "tasks", no need of Mr Hu Xijin's articles, there will be no reason for the US to engage further in the South China Sea and Vietnamese people would develop better sentiment towards China. If China shows its good faith, the US will not be able to decouple Vietnam from China "by hook or by crook".
Mr Hu Xijin's article was posted on the website of the Chinese Embassy in Hanoi, which stirred up the Vietnamese netizens. Legions of articles and counter-arguments fulminating against Mr Hu Xijin's irrational response to the 25th anniversary of Vietnam-US bilateral relations appeared on the internet, especially on social media network that forced the Chinese Embassy to remove his articles. I hope that Mr Hu Xijin and the Chinese leadership in Beijing have already learnt a lesson from this thoughtless action.
---
Newer news items:
Older news items:
---