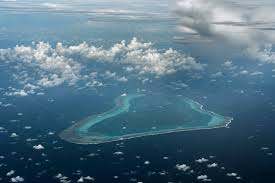 A Chinese military adviser has claimed the United States could launch an attack on disputed Chinese-controlled reefs in the South China Sea to boost Donald Trump's prospects of winning re-election as US president.
Observers said they were concerned about accidental clashes as Beijing and Washington increasingly confront each other – but although a US offensive could spark a drastic escalation into all-out war, they viewed the possibility of it happening as low, especially without the Philippines' agreement.
Wang Yunfei, a retired Chinese naval officer, recently wrote in a column on a military website that Trump, trailing in polls ahead of November 3's US election, could start a "controllable" military conflict with China in the disputed South China Sea to boost his approval rating.
Among the sea's many disputed features, the most likely target of a sudden US attack would be Scarborough Shoal, Wang argued.
The shoal, 120 nautical miles west of Luzon, the largest island in the Philippines, is contested by Manila and Beijing. It used to be a shooting range for the US military when it was stationed in the Philippines.
Now it is under Chinese control, but unlike the seven Chinese artificial islands in the disputed Spratly archipelago, there is no human-built structure on the reef.
Chinese coastguard ships regularly patrol around the shoal or in the lagoon inside it. Since 2016, Filipino fishermen have been able to operate there too under a deal between the two countries.
"There are no troops stationed there, so the consequence of a [US-China] diplomatic conflict is relatively smaller," Wang wrote. "The American military might also try to humiliate the Chinese in the name of a resumption of their shooting training."
But an attack on the shoal, which is within the 200 nautical miles of the Philippines' exclusive economic zone, could also represent a slap in the face for Manila unless it gives prior consent, according to Hu Bo, director of think tank South China Sea Strategic Situation Probing Initiative.
"To throw some bombs into an empty lagoon makes no military sense, and it would also upset the Philippines and even other countries in the region," Hu said. "But if it did happen, it would also open the door to a hot conflict, just like attacking the Chinese artificial islands in the South China Sea would mean a full-on war."
On Monday, Philippine President Rodrigo Duterte told his country's military that it would no longer be taking part in joint maritime exercises in the South China Sea with other nations.
"President Duterte's order to us, to me, is that we should not involve ourselves in naval exercises in the South China Sea except our national waters, within 12 miles of our shores," Defence Secretary Delfin Lorenzana said.
This appeared to rule out the possibility of the Philippines – alone or jointly with the Americans – using force near Scarborough Shoal, which does not generate 12 nautical miles of territorial sea in its own right. The country has previously taken part in a number of joint exercises in the region.
"This policy is to avoid further irritating Beijing, given that US military activities in the South China Sea have practically protected the interests of the Philippines, an American ally by treaty," said Zhang Mingliang, a specialist in South China Sea studies at Jinan University in Guangzhou, southern China.
"China is already under pressure from the United States, so other Asean claimants of South China Sea features are being extremely careful with their words and actions, so as not to explicitly choose a side."
Technically, the Philippines' attitude has also greatly reduced the chance of the US attacking Scarborough Shoal, Zhang added.
The US state department has recently denounced China's claims in the South China Sea as "unlawful", and the American navy and air force have been conducting exercises and reconnaissance with unprecedented frequency and intensity, raising suspicions over whether they are preparing for a sudden attack on Chinese-controlled islands and reefs.
"Trump does have the political motive to create a crisis to divert his troubles at home. But militarywise a conflict with China is too risky to manage," said Wu Xinbo, director of Fudan University's Centre for American Studies.
Nonetheless, an increase in encounters between US and Chinese warships and planes may lead to some accidents, which could escalate rapidly given current tensions, Hu said.
Click the link for the original article
---
Newer news items:
Older news items:
---