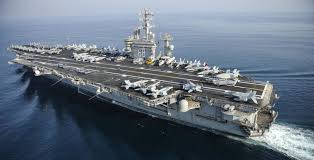 For the first time since 2017, the U.S. Navy has positioned three of its aircraft carriers on the doorstep of the disputed South China Sea, as tensions between Washington and Beijing continue to soar.
Analysts said the dispatch to the Western Pacific of the three vessels was likely intended to send a message to China that, despite the ongoing coronavirus pandemic, the United States military would continue to maintain a strong presence in the region.
On Sunday, the U.S. Navy's Pacific Fleet said the USS Theodore Roosevelt and USS Nimitz carrier strike groups had begun dual carrier flight operations in the Philippine Sea.
The two strike groups were scheduled to conduct air defense drills, sea surveillance, replenishments at sea, defensive air combat training, long-range strike drills, coordinated maneuvers and other exercises, according to a statement.