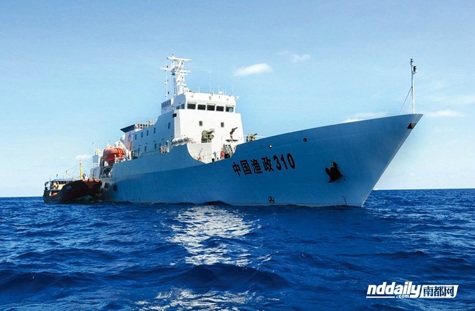 A worrisome development is that China intends to intensify its propaganda for claiming the disputed bordering areas both on land and at sea. Recently it has been learnt that China has established a Steering Sub-Committee for guiding, coordinating and supervising, educating, propagating awareness of national map and controlling entire national map market with coordination of 13 Ministries which include National Agency for Geographic Information and Map Production, Committee for Propaganda and Instruction of the Communist Party of China, Ministry of Foreign Affairs, Ministry of Education, Ministry of Industry, Ministry of Public Security etc.
The main objective of this committee is to instruct and guide the task of reprinting and republishing national maps and organising propaganda.  This would indicate that China is going to intensify cartographic aggression and would make its position very rigid with new "justifications" for the disputed areas.
Significantly, coordination in two important regions where China claims areas- Sino-Indian border and in South China Sea- is being done by the same official- State Councillor Dai Bingguo. He is the Special Representative for Sino-Indian border talks and is also coordinating the work of different ministries and agencies in China dealing with the South China disputes. This suggests that China would have the same strategy for both the regions. Despite several round of talks, there is no palpable progress on the Sino- Indian border resolution. China has recently repeated several times its claims on Arunachal Pradesh. Alongside, the intrusions have continued at a high level. This year in the first four months there had been 64 intrusions by the Chinese PLA. In the last two years, the intrusions more than 200 in a year. In addition, the Chinese are in occupation of the Indian part of J&K, which they obtained from Pakistan in 1963. The Chinese troops are also present in PoK. In South China Sea, China is avoiding discussions at multilateral forums and keep on claiming areas. It not only enforces fishing ban in parts of the South China Sea, which belong to other nations, it objects to commercial operations in areas which fall into the EEZs of other countries. It had objected to the Indian and Russian companies involved in the oil exploration operations. 
To understand the Chinese strategy in the bordering region, their activities in the South China Sea needs to be studied. In the South China Sea, China had first adopted the Strategy of Anti-Access and Anti-Denial (A2AD) for the first chain of islands and the extended it to the second chain of islands. This strategy is based on acquisition of anti-ship missiles, other weapons and air-craft carrier. Chinese aggressiveness has been noticeable recently in the incident near Scarborough Shoal involving the Philippines and the Chinese ships. Last year the Chinese cut the cables of two Vietnamese ships. Their nine dotted lines show that almost 90% of the South China Sea belongs to China. Efforts to resolve the disputes have not yielded any significant result. The Chinese claims are based on selective history. In case of Scarborough Shoal, China claims the area on the basis of the map of the 13th century when China was itself under the alien Mongol rule.  However, a 10th century Arab traveller and a geographer al-Masudi had made reference to the Cham Sea and trade between Champa and Luzon (Philippines). More over while China rejects the unequal treaties imposed by colonial powers, it points out that the Treaty of Paris of 1896 had not given Scarborough Shoal to the Philippines. 
In case with India a similar effort is on. The official sponsored media has started mentioning Arunachal Pradesh as the south Tibet. The Chinese maps often show Sikkim as an independent country. The cartographic aggression is continuing and with the coordinated propaganda as the result of effort of 13 Ministries, this is likely to intensify. Selective interpretation of history and boundaries drawn earlier would continue. Alongside, China which has made road and rail network in the bordering areas in its side and has deployed missiles at Delingha, which can easily hit targets in the North East. This would help China to incrementally adopt a strategy similar to A2AD. With Chinese troops in PoK and the military network established at the border, today China is in a better position to adopt aggressive posture towards India. The anti-India rhetoric has already become shriller and louder. The articles written in the Global Times-an officially sponsored paper- clearly reflect the hardening of the Chinese attitude towards Arunachal Pradesh.  It must be admitted that Indian response is also encouraging China to adopt aggressive posture towards India. India is following the policy of 'managing China' by avoiding confrontation and downplaying incidents of intrusions. This in fact is not working in our interest. China may be viewing it as tacit acceptance of its claims. India has already adopted a policy of not sending Indians from Arunachal Pradesh and J&K. Whenever China opposes such delegates in the official teams, India drops them. China may be viewing it as India's recognition that these areas are at least disputed. These certainly are sending wrong signals to China. China has already proposed to establish a diplomatic office in Bhutan in order to reflect that India's special relations with that country are not recognized by China. 
India must change its strategy to deal with China. The so called policy of managing China is in fact encouraging China to be more aggressive towards India. The time has come to tell China what India would not tolerate. India must clearly indicate that intrusions into Indian Territory would not be acceptable and India could send Indians from any part of the country. At the same time our defence preparedness must be streamlined to be able to have a deterrent posture against China to ensure protection of our interests. At the same time India should maintain close relations with the countries in the South China Sea region to protect our legitimate interests. We have both commercial and strategic interests in the region. Mr Brijesh Mishra, the former National Security Advisor and Special Representative for Sino-Indian border talks, has called for strategic partnership with US to hedge China. Pragmatism demands this and therefore the suggestion in this regard made by Leo Panetta, the US Defense Secretary recently needs to be utilized. India's geo-economic interests demand that it gives sufficient emphasis on geo-strategic interests in that region. India's commercial interests can only be protected in that region if it has sufficient influence in the region.
(Source: indiatimes.com, June 10, 2012)
---
Newer news items:
Older news items:
---