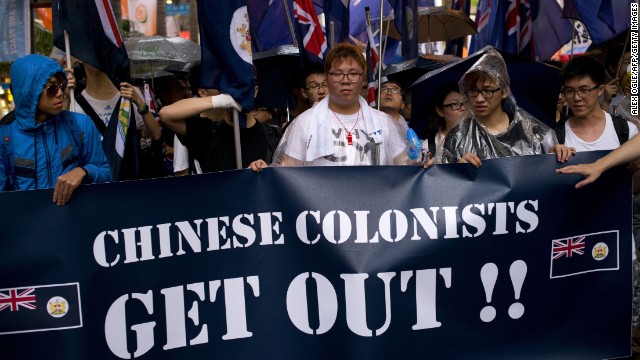 SCSC - In late September and early October 2014, massive protests occurred in Hong Kong. Let us look into this incident to understand more about Beijing's policy on the East Sea.
The protests in Hong Kong evolved from student - led movements protesting against Beijing's decision on elections in Hong Kong and demanding for a completely free and direct election in 2007 as agreed between Britain and China upon the transfer of Hong Kong to China.
Police used tear gas to disperse the demonstrators, which immediately flare demonstrations up expansively in terms of scale and substance. Demonstrators occupied Hong Kong's central and administrative sites, calling for Hong Kong's executive chief to step down and even named their movement "Occupy Central". Demonstrations did not only caught the participation of students but also widespread to residents from all strata in Hong Kong.
The representative symbol for the Hong Kong protests is the umbrella. People of Hong Kong taking to the streets those days always bring umbrellas to protect them from the harsh sun. As police use pepper spray, a high number of Hong Kong protesters shield themselves with umbrellas. The umbrella becomes the sign of battle at the front line. The protests in Hong Kong as a result are called the "Umbrella Revolution". The fact that Hong Kong administration used tear gas to suppress demonstrators shows the hard policy of Beijing. Recalling the bloody suppression by Beijing's administration against demonstrations in Tiananmen Square in 1989, public opinion fears that what happened in Tiananmen might repeat in Hong Kong.
Since Beijing's administration has committed such barbaric acts against their own citizens, it is by nature that they take brutal and barbaric actions against Vietnamese poor fishermen conducting normal fishing operations in the East Sea. Hanoi cannot stay under the illusion about the so - called "ideology of being both socialist countries" in a hope that they will be truly friendly with Viet Nam, notably on the East Sea issue.
A number of leaders of "Occupy Central" protests in Hong Kong revealed that they had received mails intimidating their lives. It is how this has been done so far, using threats to put pressure on opponents until they give up. According to Reuters, Professor of Sociology at the Chinese University Chan Kin - Man, who is a co - founder of the Occupy Central movement, said he received a stack of envelopes containing death threats scrawled in Chinese characters. Professor of Law Benny Tai at the University of Hong Kong also received death threats for several times, some addressed to "The devil", with one envelope containing a razor blade. Beijing is using their underground forces to threaten leaders of the protests in Hong Kong the same way they are doing with Viet Nam and the Philippines in the East Sea.
In terms of interests, it seems that the protests in Hong Kong against Beijing's administration are beneficial to coastal states in the East Sea. Since Beijing has to focus on dealing with the protests in Hong Kong in the immediate time, it is unlikely that they will continue aggressive actions in the East Sea.
From early 2014 to date, Beijing's administration has to address many acts of disturbance caused by Uighur people in Yunnan, Xinjiang and even Beijing. The protests in Hong Kong are a "new karma" for Beijing's administration that are performing very harsh domestic and foreign policies. Mr. Xi Jinping, an arrogant person, is now facing many challenges after two years in authority.
It is a "cause and effect" phenomenon or "who sows the wind shall reap the whirlwind". Mr. Xi has put in place many harsh policies, cause destabilized situations and now is facing such a disturbing situation in Hong Kong that he has not found the way out. Mr. Xi Jinping has also implemented a harsh policy on sea and island issues in the relation with neighboring countries, which seriously deteriorating the image of China in the world. There're worries in international opinion about the potential expansion of Beijing in the East Sea and East China Sea. The entire world has criticized China's aggressive actions against Viet Nam and the Philippines in the East Sea. As a result, leaders in Beijing, led by Mr. Xi Jinping, are desperately defending the lawsuit filed by the Philippines.
International criticisms (from the United States, Britain, Europe, etc…) warned China not to use force to disperse demonstrations in Hong Kong. The United Nations has also expressed concerns over the situation in Hong Kong and called on Beijing to use dialogue and peaceful means. Chinese Foreign Ministry spokesperson Hua Chunying criticized the U.S. and Britain for expressing concerns over Hong Kong's use of force against demonstrators, stressing that "Hong Kong's incident is an internal affair of China. We call upon other countries not to interfere into internal affairs of China under any forms".
In that context, Beijing needs to take advantage of support from neighboring countries, particularly Viet Nam that shares a very long border with China in the south and that is so close to Hong Kong. Therefore, in the coming time, Beijing is unlikely to have any provocative actions against Viet Nam in the East Sea. Vietnamese people do not want to see a destabilized China, but obviously the protests in Hong Kong have eased the pressure for Viet Nam on the East Sea issue. However, as China's evil intention of occupying the East Sea doesn't change, it is important to stay cautious about provocative actions of China./.
SCSC
---
Newer news items:
Older news items:
---