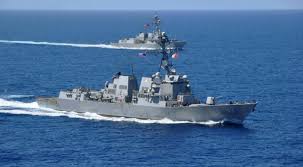 TOKYO: China is using the coronavirus as a cover to push territorial claims in the South China Sea through a surge in naval activity meant to intimidate other countries that claim the waters, the commander of United States Forces in Japan said on Friday (Jun 5).
There has been a surge of activity by China in the South China Sea with navy ships, coast guard vessels and a naval militia of fishing boats harassing vessels in waters claimed by Beijing, said Lieutenant General Kevin Schneider.
"Through the course of the (COVID-19) crisis we saw a surge of maritime activity," he told Reuters in a phone interview. He said Beijing had also increased its activity in the East China Sea, where it has a territorial dispute with Japan.
Beijing's increased level of activity would likely continue, predicted Schneider: "I don't see troughs, I see plateaus," he said.