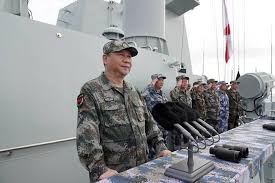 The South China Sea is becoming even choppier. Last month, China started to conduct a seismic survey within Malaysia's exclusive economic zone (EEZ), and a Vietnamese fishing boat sank near the Paracel Islands after a collision with a China Coast Guard vessel.
A number of recent analyses have emphasized that China is seizing pandemic-created opportunities to improve its position in the South China Sea as other countries are distracted or otherwise unable to respond. A key implication of such claims is that absent the pandemic, China would have acted differently and perhaps with more restraint.
My research — and a rundown of Chinese actions since the pandemic — suggest these moves demonstrate continuity in China's behavior, not opportunism. Here's what you need to know.
Click the link for the original article
---
Newer news items:
Older news items:
---